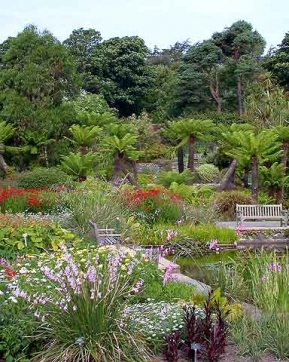 Opening Days and Hours
Dates/days/times open:
March 15th to October 31st 10am-5pm. Open on Sundays in February for Scottish Snowdrop Festival.
House Open for Viewing:
No
National Garden Scheme days:
Yes
Spring Bank Holiday (SGS)
Best Times of Year to Visit:
Spring and summer months.
To see:
Exotic, bizarre and beautiful plants from the Southern hemisphere.
Admission Prices
Adults £6.50, concessions £5.50, children & Essential Carers u2013Free Group Discounts available
Onsite Facilities
Other Facilities & Comments:
Discovery Centre. See website for details of events: www.rbge.org.uk/logan
Garden Features & Events
Scotland's most exotic garden. Southern hemisphere plants.
English Heritage/Visit Scotland Garden Grade:
Nearby Cambridgeshire Hotels, Facilities & Amenities
Hotels & Accommodation:
Blinkbonnie Guest House, Portpatrick
Villages / Towns / Sightseeing:
14 miles south of Stranraer.
Description of Garden
Logan's exceptionally mild climate allows a colourful array of tender plants to thrive out-of-doors. Amongst the many highlights are tree ferns, cabbage palms, unusual shrubs, climbers and tender perennials found within the setting of the walled, water, terrace and woodland gardens.