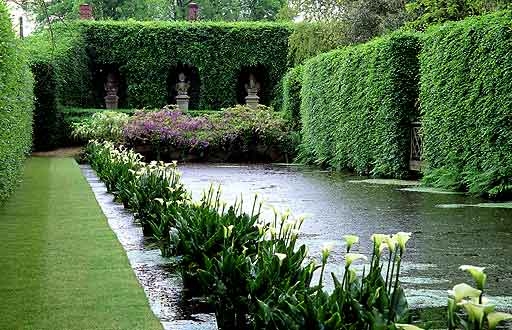 Opening Days and Hours
Dates/days/times open:
Please check with garden owners or their website to confirm current dates open Open all year - by prior appointment only - to groups of 20+ only, every day, excluding Bank Holidays; Mon - Fri; 10am - 12 noon, 2pm - 4pm.
Parties/Coaches:
Yes
Between 20 - 40 people, minimum 20.
House Open for Viewing:
No
National Garden Scheme days:
No
Best Times of Year to Visit:
Admission Prices
£6.00, No concessions. Tours: £35 per tour. £55 per tour with owner. Because of the layout of the garden it is impossible to accommodate more than 20 people per tour, so a second tour is £25, or £35 with owner.
Onsite Facilities
Other Facilities & Comments:
Plants are available for sale by arrangement. Lunches, teas and refreshments are also only available by arrangement. Light lunches from £20 per head Tea & coffee with biscuits from £6 per head, or £8 to include homemade cakes.
Garden Features & Events
Garden design by Sir Geoffrey Jellicoe, featuring a famous rill.
English Heritage/Visit Scotland Garden Grade:
Nearby Cambridgeshire Hotels, Facilities & Amenities
Hotels & Accommodation:
The Grosvenor Hotel, Shaftesbury King John, Tollard Royal The Lamb at Hindon
Restaurants:
Fleur-de-Lys, Shaftesbury Chutneys (Indian), Shaftesbury Happy Garden (Chinese), Shaftesbury
Inns & Pubs:
Beckford Arms, Fonthill The King John, Tollard Royal The Lamb, Hindon
Villages / Towns / Sightseeing:
Shaftesbury - 5 minutes away. Wardour Castle - 10 mins. Stourhead - 30 mins Hadspen - 30 mins Cranbourne - 30 mins
Description of Garden
Sir Geoffrey Jellicoe, one of our finest landscape architects, was commissioned in 1969 to create a water garden for Lady Anne and Captain Michael Tree. The result was Shute House Gardens; his favourite and, some say, finest work.

The River Nadder rises at the top of the garden and is diverted into canals, waterfalls, rills and mysterious pools through a series of atmospheric rooms. There is a parterre of Box hedges containing six gardens, each with a different theme; a Camellia Walk with over a hundred varieties; a canal of Arum Lilies overlooked by Chinese balconies; an amphitheatre in Box behind a double bridge swathed in Wisteria and Ivy; a beastly garden full of menacing Arisaemae and Orthiopoga; and the world-famous Rill, tumbling musically down to the beautiful Kashmiri bubble fountains.

Shute House has been restored and developed by the present owners, John and Suzy Lewis, who commissioned Sir Geoffrey Jellicoe to complete the gardens when they arrived in 1994. The work continues to this day.